NuQuip® Live Swivels
Pressures Up to 40,000 psi (2,758 bar)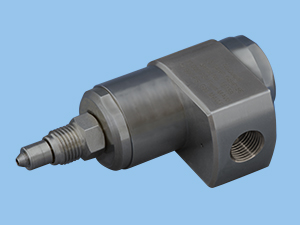 The NuQuip® Live Swivel is a single-acting swivel when used under pressure, provides movement for hand tools or other apparatus connected to a stationary connection, such as a hose, tube, or pipe line. The Live Swivel is suitable for applications with a maximum working pressure of 40,000 psi (2,758 bar) according to military, nuclear, automotive, and aerospace specifications such as API, ASTM, ASME, ISO, DIN, DOT, and BS.
The Live Swivel is specifically designed for industrial applications, and special high-pressure seals are available for harsh work environments. This accessory features single or multiple passages that utilize a variety of commonly used liquids and gases.
The compact, balanced design of the Live Swivel reduces operator fatigue often caused by twisted hoses during hydrostatic pressure testing, tube expansion, and waterjet cutting applications.
The tool is constructed from heat-treated, stainless steel to provide long, trouble-free service.
Contact Airmo for special tool sizes and configurations.
Product Features

| | | |
| --- | --- | --- |
| | Specifications | Description |
| | Maximum Pressure: | Working pressures up to 40,000 psi (2,758 bar) |
| | Temperature: | 32° F to 120° F (0° C to 49° C) |
| | Services: | Water, oil, or gas |
| | Swivel Capacity: | Free rotation in any direction while pressurized |
| | Seals: | Special seals available for harsh environments |
| | Construction: | Precision-machined, heat-treated stainless steel |
| | Custom Options: | Custom options considered |

Contact Airmo for Your System and Tool Needs