NuQuip® Model PR Series Pressure Regulators
Pressures Up to 20,000 psi (1,379 bar)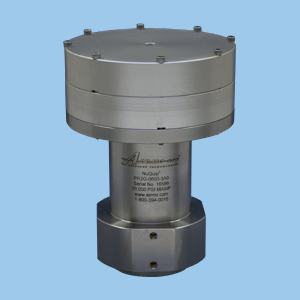 The NuQuip® Model PR Series Pressure Regulator is a pressure reducing device utilizing an air actuator for precise control of high pressures. These regulators have a tapped vent port to allow capture of vented fluid. Two basic models are available: PR1 with dual six-inch air actuator pistons, and PR2 with single or double, five-inch air actuator pistons. The PR1 is slightly larger than PR2, giving it higher flow capacity.
The PR Series Regulator is designed to handle high pressures and high flows, for both liquids and gases. They utilize stainless steel components for corrosion resistance and durability. Air actuators can be operated using regular shop air, and allow remote adjustment of regulator output, which is beneficial in automated systems.
Contact Airmo for custom design options.
Product Features

| | | |
| --- | --- | --- |
| | Specifications | Description |
| | Maximum Pressure: | Working pressures up to 20,000 psi (1,379 bar) |
| | Temperature: | 32° F to 120° F (0° C to 49° C) |
| | Services: | Liquids or gases |
| | Operation: | Air-actuated, 0 to 80 psi (0 to 5.5 bar) |
| | Flow Capacity: | Maximum Cv = 1.5, depends on model |
| | Port Orientation: | Inlet and outlet are in-line |
| | Port Styles: | NPT, MP, HP (contact Airmo for sizes) |
| | Leakage: | Bubble tight seal for gas applications |
| | Mounting: | Body has four 1/4 in.-28 tapped holes |
| | Construction: | Stainless steel body, aluminum air actuator |
| | Custom Options: | Custom options considered |

NuQuip® Model PR Series Pressure Regulators.pdf

Contact Airmo for Your System and Tool Needs