NuQuip® A-Series Accumulators
Pressures Up to 30,000 psi (2,068 bar)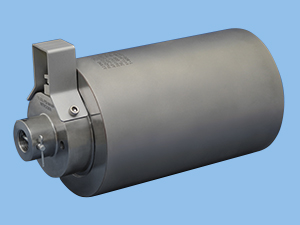 The NuQuip® A-Series Accumulator is a piston-style accumulator available in three sizes with two maximum working pressure choices. Accumulators are used for dampening pulsation in pressure systems, or providing supplemental flow when a system pump is not meeting demand. A-Series Accumulators are fabricated from stainless steel for a long service life, and available in a wide selection of liquid port and seal materials.
Contact Airmo for accumulator custom design options.
Product Features
Specifications
Description
Maximum Pressure:
Working pressures up to 30,000 psi
(2,068 bar)
Temperature:
-48° F to 120° F (-44° C to 49° C)

Design:

Piston style
Pre-Charge:
Nitrogen only
Pre-Charge Valve:
Industry standard valve provided
Liquid Capacity:

15 cu. in. (0.25 liters)
30 cu. in. (0.49 liters)
60 cu. in. (0.98 liters)


Port Styles:
NPT, MP, MS (Contact Airmo for sizes)
Seal Materials:
Wide variety for compatibility with most liquids
Construction:
Precision-machined stainless steel
Custom Options:
Custom designs considered

NuQuip® A-Series Accumulators.pdf

Contact Airmo for Your System and Tool Needs