NuQuip® Model VCV Series Control Valves
Pressures Up to 20,000 psi (1,379 bar)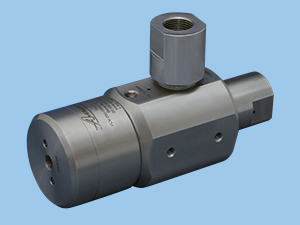 The NuQuip® Model VCV Series Control Valve is a pneumatically-operated fluid control valve designed for high pressures and high flow rates. These two-position valves have a right angle port orientation. The integral air actuators provide rapid switching even at maximum operating pressure, using only 80 psi air (5.5 bar air). The Model VCV Control Valve is available with either metal-to-metal or soft seat configuration. Multiple port choices are available.
Contact Airmo for information on custom design control valve options.
Product Features
Specifications
Description
Maximum Pressure:
Working pressures from 10,000 psi (689 bar)
to 20,000 psi (1,379 bar)
Temperature:
32° F to 120° F (0° C to 49° C)

Services:

Water, oil, other liquids, or inert gases
Operation:
Double pilot air-actuated
Flow Capacity:
Optimized for each port size
Port Styles:
NPT, MP, MS, OD
Seat Styles:
Metal-to-metal or soft seat
Mounting:
Body has six 1/4 in. tapped holes
Construction:
Precision-machined, heat-treated stainless steel
Custom Options:
Custom designs considered

NuQuip® Model VCV Series Control Valves.pdf
NuQuip® Control Valves
NuQuip® Model DV Series Dump Valves - Pressures up to 10,000 psi (689 bar)
NuQuip® Model HCV Series Control Valves - Pressures up to 20,000 psi (1,379 bar)

Contact Airmo for Your System and Tool Needs