ExpanTek® Custom TH Ball Expansion Systems
Pressures Up to 10,000 psi (689 bar)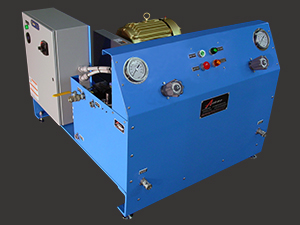 Airmo offers custom designed ExpanTek® Triplex-Hydro Ball Expansion Systems with dual-station controls for use by two operators. Each station is designed with a dedicated tool connection port. The triplex pump supplies the high-pressure water flow to push a projectile like a chrome steel ball through the tube to expand it.
The Triplex-Hydro Ball Expansion System reliably and efficiently expands tubing using the ExpanTek® Model 22 Series Ball Expansion Tool. A chrome steel ball is placed in the tube then the system's pressure cycle is started, forcing the ball through the tube. The amount of tube expansion relates to the ball's diameter and the thickness of the tube wall.
Contact Airmo for information on custom ball expansion system options.
Product Features
Specifications
Description
Maximum Pressure:
Working pressures up to 10,000 psi (689 bar)
Flow Rate:
3.6 gpm (13.6 lpm)
Temperature:
32° F to 120° F (0° C to 49° C)

Electrical:

Tailored to type of electrical service used
Control Options:
Foot pedal or tool trigger switch
Services:
Water
Cycle Time:
2 to 5 seconds
Operator Interface:
Adjust and monitor system functions on control panel
Operation:
High-pressure water forces a single ball down the tube
No Setup Required:
For various tube sheet patterns
Construction:
Skid-mounted, steel frame
Options:
Dual station pressure systems available with other pressure
and flow rates

ExpanTek® TH Ball Expansion Systems.pdf

ExpanTek® Product Line Card.pdf
ExpanTek® TH Ball Expansion Systems
ExpanTek® TH Ball Expansion Systems - Pressures up to 10,000 psi (689 bar)
ExpanTek® Ball Expansion Tools
ExpanTek® Model 22 Series Ball Expansion Tools - Pressures up to 10,000 psi (689 bar)

Contact Airmo for Your System and Tool Needs