NuQuip® Model 121375 Series Air-Driven Pumps
Pressures Up to 30,000 psi (2,068 bar)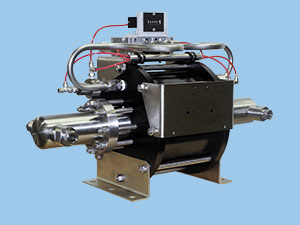 The NuQuip® Model 121375 Series Pump uses an air-over-water intensifier to generate hydrostatic pressure and provide continuous duty cycling. The air-driven pump operates with standard shop air and uses water or de-oinoized water for its fluid source. For optimum performance a minimum of 18 SCFM of air is required to drive the pump. Standard pump models use 100 psi of supply air pressure and can be configured for maximum output pressure of 10,000 psi (689 bar), 20,000 psi (1,379 bar) or 30,000 psi (2,068 bar).
The Model 121375 Series Pump is ideal for hydrostatic testing and tube expansion using TestMaster® Hydrostatic Test Tools or ExpanTek® Tube Expansion Tools. Customized pumps can be packaged with controls, frame, or accessories to meet your application requirements.
Contact Airmo for information on air-driven pump configurations.

Product Features
Specifications
Description
Maximum Pressure:
Working pressures up to 30,000 psi
(2,068 bar)
Temperature:
32° F to 120° F (0° C to 49° C)

Services:

Water or de-ionized water
Operation:
Air-driven, fluid plunger pump
Flow Capacity:
From 0.5 gpm to 2 gpm (1.9 lpm to 7.6 lpm)
Pressure Source:
Double-acting or single-acting

Air Flow:

Low air flow requirements
Cycle Counter:
For maintenance schedule setup
Inspection:
Weep holes allow visual inspection of seal condition
Seal Maintenance:
Complete without disassembling pump
Noise Level:
Runs quietly
Construction Wetted Parts:
Precision-machined, heat-treated stainless steel
Custom Options:
Custom designs considered
Applications
The NuQuip® Model 121375 Series Pump is a power source for tools used in hydrostatic testing and hydro-expansion applications.
Model 121375 Pump Applications
Hydrostatic pressure testing
Hydro-expansion of tubes
TestMaster® Hydrostatic Test Tools
TestMaster® Model LPH Series Hydrostatic Test Tools - Pressures up to 5,000 psi (345 bar)
TestMaster® Model LPHE Series Hydrostatic Test Tools - Pressures up to 5,000 psi (345 bar)
TestMaster® Model MPG Series Medium Pressure Gas Test Tools - Pressures up to 10,000 psi (689 bar)
TestMaster® Model 64 Series Hydrostatic Test Tools - Pressures up to 10,000 psi (689 bar)
TestMaster® Model 264 Series Hydrostatic Test Tools - Pressures up to 20,000 psi (1,379 bar)
TestMaster® Model 300 Series Hydrostatic Test Tools - Pressures up to 5,000 psi (345 bar)
TestMaster® Model 310 Series Hydrostatic Hose Test Tools - Pressures up to 30,000 psi (2,068 bar)
TestMaster® Model 333 Series Hydrostatic Test Tools - Pressures up to 30,000 psi (2,068 bar)
TestMaster® Model 350 Series Hydrostatic Bottle and Cylinder Test Tools - Pressures up to 15,000 psi (1,034 bar)
TestMaster® Model 364 Series Hydrostatic Test Tools - Pressures up to 30,000 psi (2,068 bar)
TestMaster® Model 464 Series Hydrostatic Test Tools - Pressures up to 40,000 psi (2,758 bar)
TestMaster® Model 500 Series Hydrostatic Test Tools - Pressures up to 15,000 psi (1,034 bar)
TestMaster® Model 525 Series Hydrostatic Test Tools - Pressures up to 15,000 psi (1,034 bar)
ExpanTek® Tube Expansion Tools
ExpanTek® Model 30 Series Tube Expansion Tools - Pressures up to 10,000 psi (689 bar)
ExpanTek® Model 35 Series Tube Expansion Tools - Pressures up to 15,000 psi (1,034 bar)
ExpanTek® Model 37 Series Tube Expansion Tools - Pressures up to 20,000 psi (1,379 bar)
ExpanTek® Model 280 Series Tube Expansion Tools - Pressures up to 20,000 psi (1,379 bar)

Contact Airmo for Your System and Tool Needs